Scrap Catalytic Converter Cutters & Shears
AcmeCatz, Inc. is committed to providing the highest level of customer service in the scrap catalytic converter recycling and refining industry!
Call Us
541-408-1090
and we will be glad to answer any questions you might have
Welcome to AcmeCatz Inc., leading provider of Catalytic Converter Shears and Cutters and replacement parts.

At AcmeCatz we also specialize in the recycling of catalytic converters, automotive cores, batteries, and nonferrous metals to extract valuable precious metals like Platinum , Palladium and Rhodium in trace form. Precious metals like Platinum can be reused in many different ways, from jewelry to medical and dental instruments.
If you have any questions or would like to request a quote, please visit our contact page. Thank you!
AcmeCatz, Inc
PO Box 5188
Bend, Oregon 97708
Cat Cutters
AcmeCatz, Inc. Leading provider of Catalytic Converter Cutters, Shears and replacement parts.
All of our equipment is menufactured and assembled in America. Our team works hard to insure that shears we produce are of the top quality and safe to use.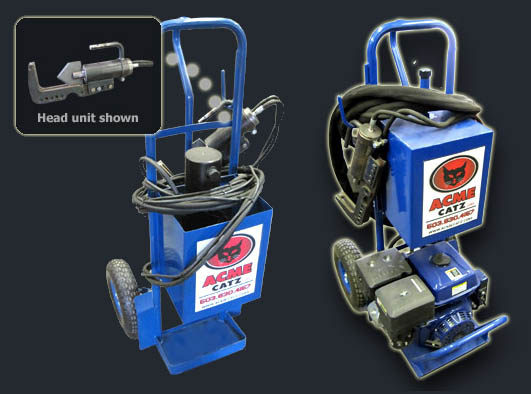 For more information or to order AcmeCatz shear, please visit our products page.
Scrap Catalytic Converter Recycling
Scrap catalytic converters are a great source of precious metals such as platinum, palladium, and rhodium which makes them valuable and cost effective for recycling. At AcmeCatz we specialize in the recycling of scrap catalytic converters and can offer a competitive prices for small, medium and large quanitities of scrap catalytic converters. Please contact us for more information or to receive a price quote.
Press Releases